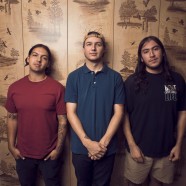 So excited about this one; we will be releasing the debut LP from Midland, TX's IVY LEAGUE in the UK/ Europe! 6131 Records will be handling the North American version, you can preorder it here.
There's a few tracks streaming online, follow the links to listen to one of the best newer punk bands around; fans of Title Fight/ Daylight take note!
Void
Losing Sleep
History Repeats
Preorders for our version will go up June 24th with the release date set as August 5th. Two colours of vinyl plus an awesome gradient print tshirt that you can check out in our store!